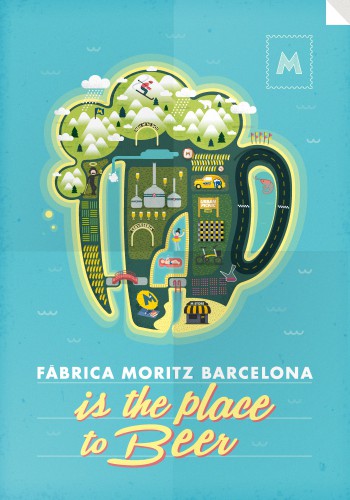 Fàbrica Moritz Barcelona
A meeting point in the center of Barcelona, where anything can happen.
Brewery open from 9 am to 3 am; the Moritz Store, a "Concept Store" with a Triticum bakery, a newsstand, unpasteurized fresh beer and design objects; multipurpose rooms where we celebrate cultural events, presentations and parties each day; one of Europe's largest microbreweries...
DO YOU WANT TO KNOW MORE?
The Fàbrica Moritz Barcelona is a theme park for adults, even better if they are beer lovers! Located on the corner of Ronda Sant Antoni and Casanova Street, it is much more than a microbrewery or a gastronomic space; it is the Moritz flagship, and it embodies everything that our brand represents.
Here you will find a microbrewery that can be considered the Rolls Royce of the European microbreweries, where we produce the unpasteurized fresh Moritz beer; it can be consumed on the ground floor of the brewery, along with some of the suggestions from our gastronomic director Jordi Vilà. In the brewery menu you will find all kinds of suggestions to take the edge off your hunger.
The visit to the Fàbrica Moritz Barcelona is not complete unless you visit our concept store, the M-Store. Here you will find a Triticum bakery, unpasteurized fresh beer, a newsstand with international publications and design objects, all under a concept that changes regularly.
In short, a delight for all the senses!
HOW CAN I GET THERE?
FÁBRICA: Ronda Sant Antoni, 41 Telf: 934.260.050
HOURS: Work days: from 9:00h to 02:30h weekends: from 9:00h 03:00 h.
FÀBRICA MORITZ BARCELONA PICTURES