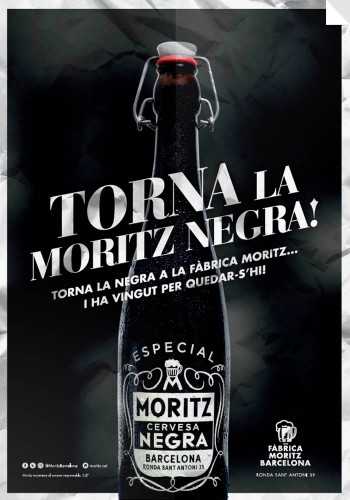 MORITZ NEGRA
YOU ASKED FOR IT... IT'S BACK!
An historic beer.
Last year, coinciding with our 160th anniversary, your palates fell in love with Moritz Negra, our very special Moritz Beer Lab beer. A year later, on the right day of our 161st anniversary, we decided that it is time for Moritz Negra to return. .. but this time to stay!
It is an intense, unfiltered black beer with light touches of ripe yellow fruit. The old brewers learned to mix the toasted malts, full of color and aromas with other malts that bring body and flavors to the beer.
With a dense, fine and adherent foam it allows us to enjoy the roasted aroma that transports us to the world of coffee and cocoa with nuances of licorice and light smoky notes that will remain until the last sip of our glass.