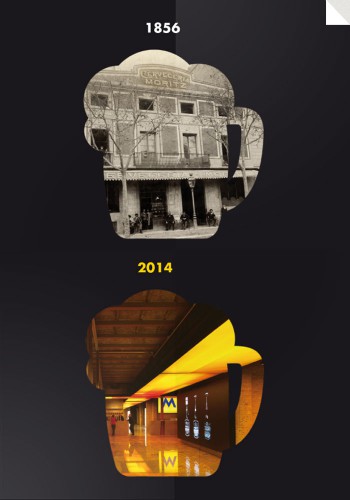 FÀBRICA MORITZ HISTORY
WITH THE PASSAGE OF TIME, FÀBRICA MORITZ BARCELONA BECAME A PART OF THE CITY'S HISTORY.
We don't know why Louis Moritz chose this location for the new headquarters of his business, which he founded in 1856 in the Raval neighborhood. It may seem like we're kissing up to him because he's the grand master (which he is! He started the story that has been around for more than 150 years), but the reality of the matter is that the founder of Moritz Beer was at that time a great visionary.
WANT TO KNOW MORE?
The new factory, inaugurated in 1864, was one of the first constructions in the new Eixample neighborhood. In fact, some traces still remain from this factory, which was in operation for more than a century, and it has now become a landmark that is still preserved in the collective history of the residents in the area. With our 21st century vision, perhaps it's hard to imagine a factory in the heart of Barcelona, but we have to remember that industrial activity mainly took place under the building in a space of over 4500 m2. Important vestiges from the former factory still remain, such as the reinforced concrete tanks manufactured in the 1920's, and are the company's authentic crown jewels. Moritz wanted to restore this great center for the city. That's why the prestigious architect Jean Nouvel has designed and reconverted this immense space into a spectacular place where dining, entertainment, culture and science come together for the residents of Barcelona to enjoy*.
*Or for anyone to enjoy no matter where they come from. Don't fret, we don't ask for your ID card at the door.
FÀBRICA MORITZ BARCELONA SOME YEARS AGO
HOW CAN I GET THERE?
FÀBRICA MORITZ BARCELONA: Ronda Sant Antoni, 41
HOURS: Open every day from 7:30 am to 3am