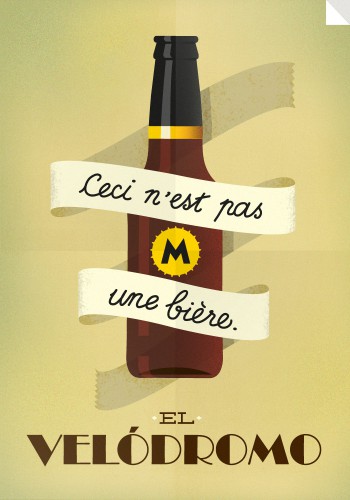 A legendary place in Barcelona, where the intellectuals met in the past to play cards, talk about current affairs, write or share experiences. In Moritz we wanted to restore this place, but keeping its original spirit. So we have restored the legendary literary cafe at Muntaner Street, and we open from 6 am to 3 am.
WANT TO KNOW MORE?
There you will find gastronomic suggestions at any time, you can read the paper over breakfast, take the typical appetizer, taste the suggestions of our chef Jordi Vilà, take a cup of hot chocolate in the afternoon, have dinner before a game of pool or enjoy a cocktail before partying.
A place that makes you travel back in time and takes you to the mid-century Barcelona.
HOW CAN I GET HERE?
EL VELÓDROMO: Muntaner, 213 Tel: 934 30 60 22
HOURS: Open every day from 6am to 3am
TAKE A LOOK INSIDE EL VELÓDROMO
EL VELÓDROMO MENU, COLLECTOR'S ITEM
THE MOST EMBLEMATIC EL VELÓDROMO DISHES, ALL OF WHICH WERE CREATED BY OUR GASTRONOMIC DIRECTOR, JORDI VILÀ.
That marble flooring! That immense billiards table! That staircase leading to the most authentic attic in the city! Without a doubt, El Velódromo has a special allure, and its gastronomic offering is in line with its image, history and aroma
WANT TO KNOW MORE?
All of this enables our chef, Jordi Vilà (who has a Michelin star at the Alkímia) to bring us a menu centred around Catalan cuisine, paying special attention to the produce. Quality produce.
Now close your eyes and try to imagine a place in Barcelona where, between 6 in the morning and 3 in the morning you may eat a wild mushroom fricandó stew, an arròs amb olla de fondo, deep pan rice or a free-range roast chicken (mental note: if you've never heard of these dishes before, hurry up and come and taste them).
Also, Jordi Vilà has taken a step further at El Velódromo. He has created beer-based dishes such as the Moritz style "siscentó" tapa (which has aubergines, tomatoes and mozzarella) or the Epidor "siscentó" (with aubergines and cod brandade). And if that weren't enough, desserts such as "cane rum gran baba", Bella Helena pears or the traditional crema catalana or crème brûlée should do the trick.
In order to provide a fitting end to food of this magnitude, we will let you into one of the city's best kept secrets: the "21 hours Non-Stop Cocktails". Flat-rate cocktails which adjust to all time slots. In this way, we may start the day with a warm or chilled coffee, a hangover cocktail covering 5 different types of Bloody Mary, or beer-based cocktails like the Kir Republicà, or the Republican Kir by Moritz. Longing to skip over to number 213 of Muntaner street.