XEMENEIA ROOM
TRADITION AND MODERNITY IN AN EMBLEMATIC BAR IN BARCELONA.
The Xemeneia room is one of the two spaces that we provide our customers in the Bar Velódromo, a mythical space at Muntaner street. We show you all the details ...
XEMENEIA ROOM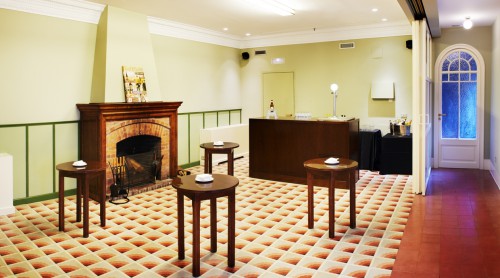 WHAT ELSE?
The features of the venue unite, in a way, the past with the present. It is a mythical venue with lots of history, which has been rehabilitates in order to keep the best but, at the same time, adapting it to our time.
The Velódromo has two private rooms for groups: Sala Xemeneia and Sala Muntaner. These two rooms are located in the upper storey.
They can be accessed through the mythical staircase or a private direct lift to the rooms. Both rooms are equipped with an audiovisual system (screen, projector, microphone and audio).
The Sala Xemeneia is an inner room with a capacity for up to 35 people, with a chimney from the 80s.
M2: 28m2
Ceiling height: 2,5m
Theatre format: 30 people
School format: 20 people
Banquet format: 20 people
Cocktail format: 35 people
Imperial format: 25 people
WHERE?
EL VELÓDROMO: Muntaner, 213
HOURS: Daily: 7:00am - 03:00am Weekends: 06:00 am - 03:00 am.